AlumierMD Professional Peels
AlumierMD Peel Treatments are the next generation of clinical exfoliation. With a variety of peels, each with a unique complex of ingredients, your AlumierMD professional can customise your program of treatments to target your specific skin concerns whether it be aging, pigmentation or acne. This unique experience includes an exfoliating peel treatment, brightening enhancement followed by prescriptive targets serums with reveal a more radiant, soft and luminous skin.
Obagi Blue Peel Radiance
The Obagi Blue Peel Radiance is an effective, well-tolerated peel and is suitable for all skin types – including sensitive skin!
The treatment only takes 15 minutes and had no downtime so you can carry on with your day. The gentle yet effective solution works as soon as it has been administered and your skin will be glowing immediately afterwards, making this treatment perfect for the day of a party or event.
A few days later, your skin may have some mild peeling/shedding as it self-exfoliates –this is normal and is nothing to worry about.
Image Skincare Chemical Peels
Image Skincare, whilst being one of the most effective cosmeceutical lines available, is also one of the easiest to use and to understand! Focused on five skin conditions: Wrinkles, Sun damage, Acne, Rosacea, and Stressed Skin, each collection is colour coded for ease of identification by the consumer, and with a recommended regime of just 4 'starter' products: Cleanse; Anti-Age Serum; Protect/Moisturise; Repair it really couldn't be simpler. These products can then be 'added to' and customised to individual skin care conditions. There is also a convenient one week trial/travel kit of 5 products customized to meet specific skin care needs.
Uniquely, for a cosmeceutical line, Image Skincare is a broad range that is designed to treat all skin types and all ages. Professional Peels range from gentle enzyme and vitamin to the highest grade chemical peels depending on skin requirements. It has the backing of board certified plastic surgeons, chemists and dermatologists.
Signature Face Lift
Our signature, results-driven skin treatments will change the IMAGE of your skin in just one session. Vitamin C, Alpha and Beta Hydroxy Acids, and gentle yet effective enzymes speed up cellular turnover lightening, tightening and brightening all skin types; even Rosacea and sensitive.
Lightening Lift Peel
Highly effective facial treatments blending lactic and kojic acids with a cocktail of lightening agents to reduce pigmentation and the redness caused by Rosacea.
Wrinkle Lift Peel
This ultra-resurfacing blend of Glycolic and Retinol visibly reduces the appearance of fine lines and wrinkles, leaving the skin firm and revitalized.
Acne Lift Peel
This potent blend of Alpha and Beta Hydroxy Acids contains anti-inflammatory agents to effectively treat and heal acne lesions.
Beta Lift Peel
Powerful non-blended Beta Hydroxy Acid skin treatments quickly and effectively target and improve grades III and IV
TCA peels
Trichloracetic acid 12-15% peels are usually done as a course of 6 every week or 2 weeks. There will be visible peeling and redness that can persist for a while depending on the strength of the peel. Patients complain of an uncomfortable stinging sensation and as the percentage increases for example a medium depth peel TCA 35% can be quite uncomfortable and a week off work would be required. TCA 35% peels are done as a once off procedure every few years. These peels give very good results and are for the patient who will accept visible peeling but want a superior result. Theses peels will greatly improve the texture of the skin, improves fine lines and wrinkles and acne scarring. Analgesia (pain-killers), antibiotics, anti-histamines and anti-viral therapy will be required after this peel. SPF 30+ is essential after this procedure. Other skin products will also usually be recommended to maintain the results of your peel.
Jessner's peels
Jessner's peels contain a mixture of salicylic acid, resorcinol, and lactic acid. It is used in mature, oily, sun damaged skin. Salicylic acid will improve the appearance of small scars and post acne marks. Lactic acid will give skin a smoother texture. Resorcinol has a keratolytic action which helps to reduce fine lines and acne leaving the skin smooth and regenerated. There will be visible peeling after Jessner's peels and sometimes pigment darkening in the first few days. These peels are done every 2 weeks. An SPF 30+ must be worn after this peel.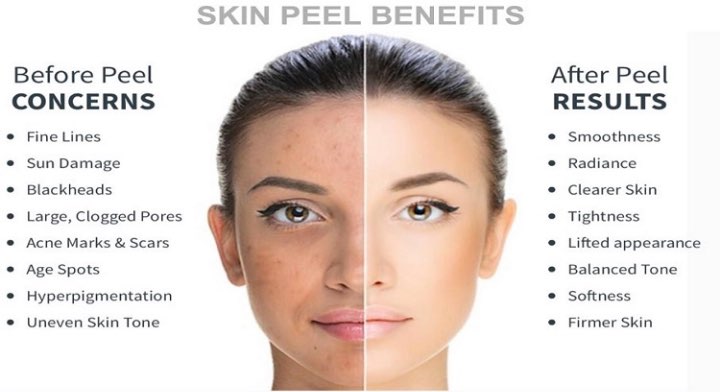 Consultation and Online Bookings