Lipofirm Pro
The Professionals and Celebrities choice for the most advanced non invasive facial and body contouring treatments.
Lipofirm PRO at Revive Clinic
For body contouring and cellulite reduction, is safe, painless and effective. Offering visible results from your very first session it does not require any post-treatment recovery or downtime.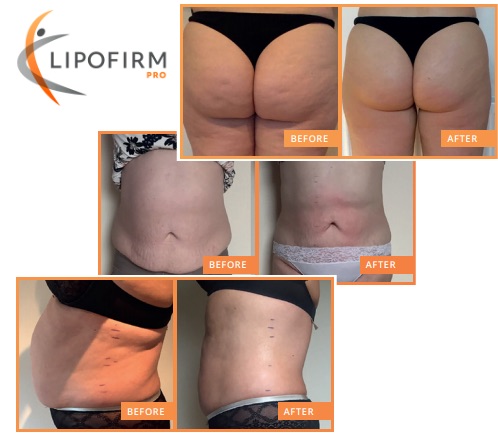 Lipofirm Pro
TriLipo with DMA technology for inch loss, body contouring, cellulite reduction, face and body tightening.
Lipofirm Pro technology uniquely combines two technologies – TriLipo Radiofrequency (RF) and TriLipo and Dynamic Muscle Activation (DMA).
Treatments are the most advanced solution for non-invasive body and facial sculpting and skin tightening. You will see results after the first treatment but for long-term enhanced results it is recomended to undergo a series of treatments.
Trilipo has been clinically proven to reduce wrinkles, fine-lines as well as restore firmness and smoothness to the skin.
Treatments take between 30-45 minute per body area and work on a wide range of body and skin concerns including:

Fat reduction

Cellulite reduction

Long term circumferential decrease

Skin lifting, firming & tightening

Facial contouring

Wrinkle reduction

Detoxification & improved lymph drainage

Enhanced blood circulation & oxygenation

Bum lift & shaping
BOOK NOW